BEFORE AND AFTER
"The Eye Sees Only What The Mind Is Prepared To Comprehend"
- Henri-Louis Bergson
Raph Nogal Photography is different because not everything always goes as planned. There's uncooperative weather, family drama, jitters, difficult lighting, difficult siblings, etc; but that's OK, because I know how to deal with all these types of situations and have done so many times over the years.
As a professional, I see all these challenges and confidently move forward to produce the best possible work for my clients. Even if your day has a rocky start, you won't remember it. You'll remember the laughs, hugs, and memories captured in the photos I take.
Seeing Something Different...
BEFORE
We had a small dining room to work with and I used off-camera lighting in order to achieve really spectacular results like the ones you see below.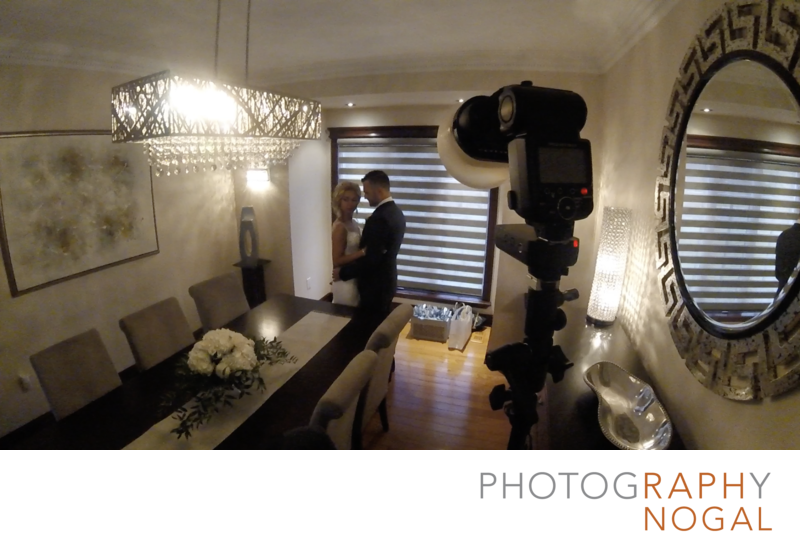 AFTER
This is what we created in that same dining room...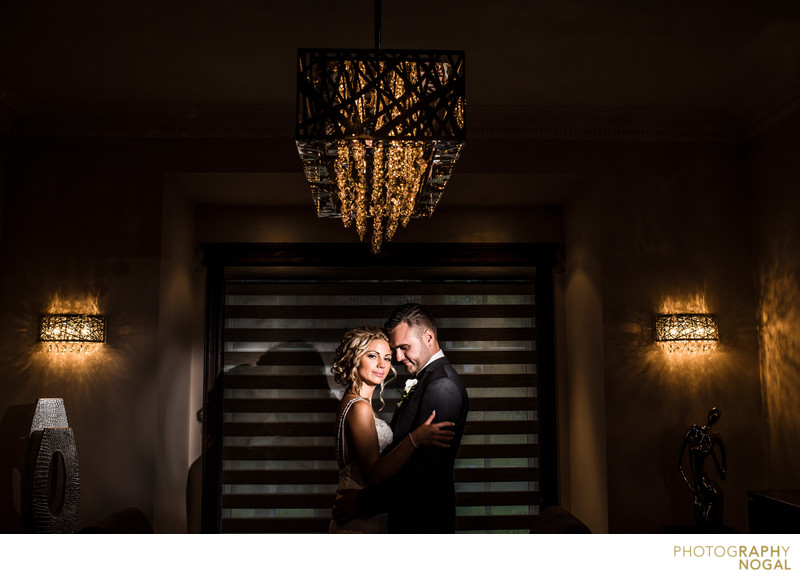 The plan was to photograph the first look/reveal moment outdoors in Kleinberg, Ontario. Unfortunately, the weather had other plans: it literally downpoured sideways!
We moved the shoot inside the groom's home, trying out the living room, the dining room, and whatever we could work with. It was a nice home, but it was not set up for wedding venue photography and so I had to get creative.
More Examples
Here are some more examples of Before and After scenarios. It's all about seeing the potential. With my experience, I can see the potential for some incredible shots just about anywhere.
BEFORE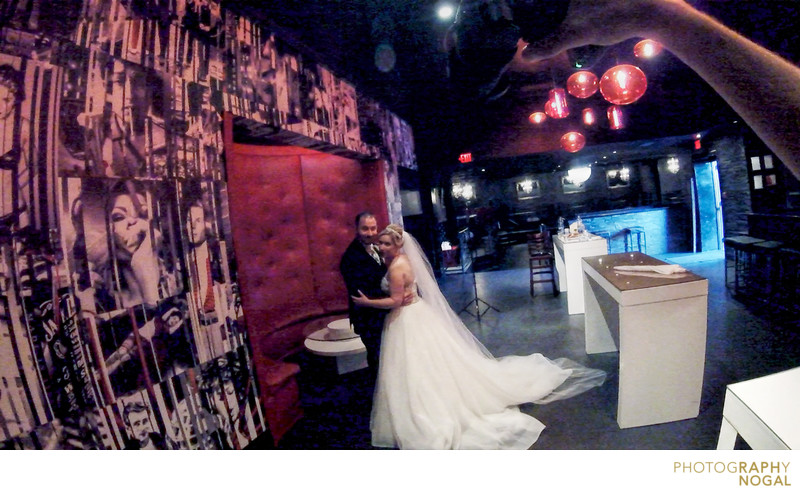 AFTER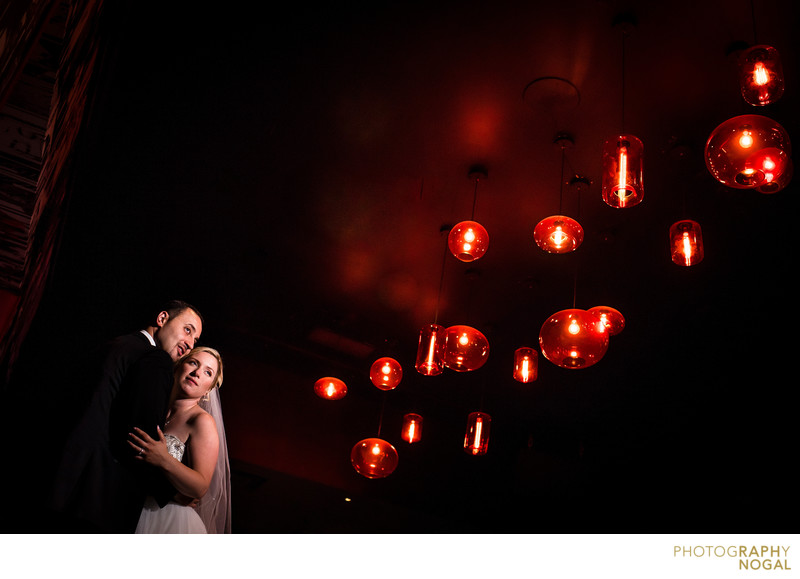 BEFORE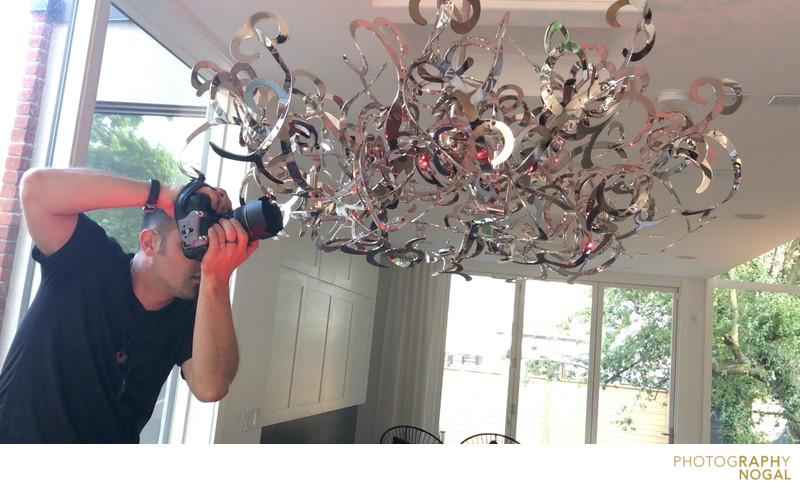 AFTER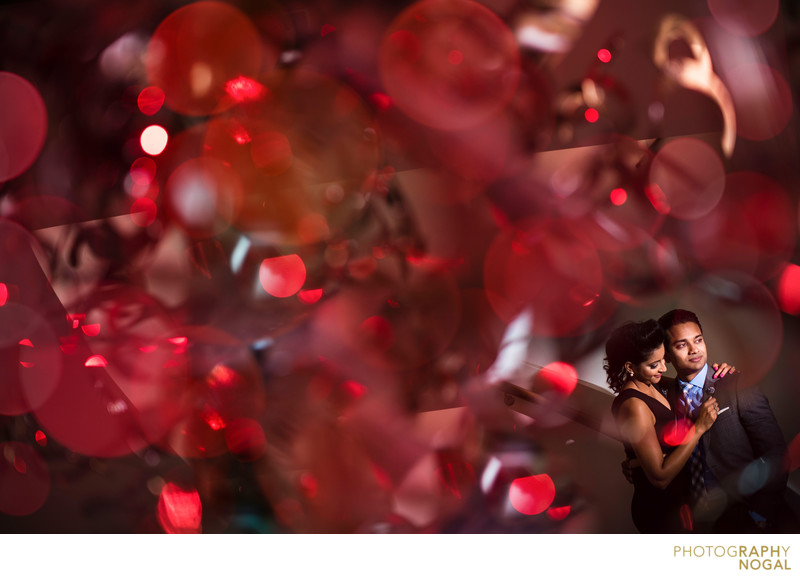 BEFORE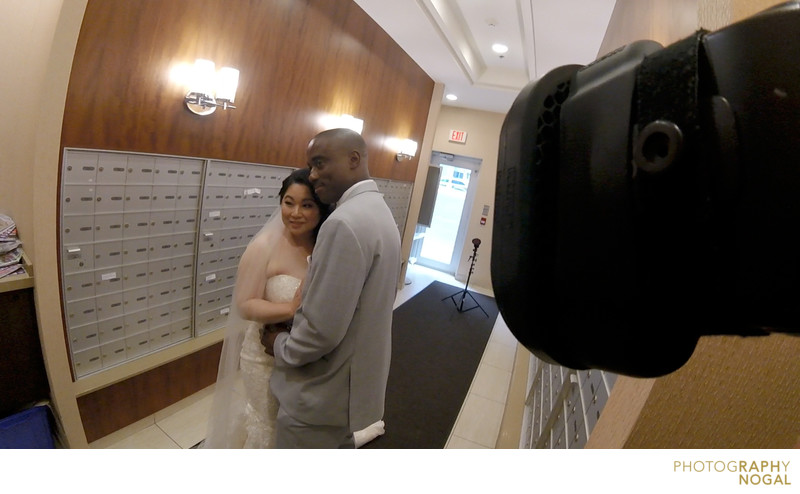 AFTER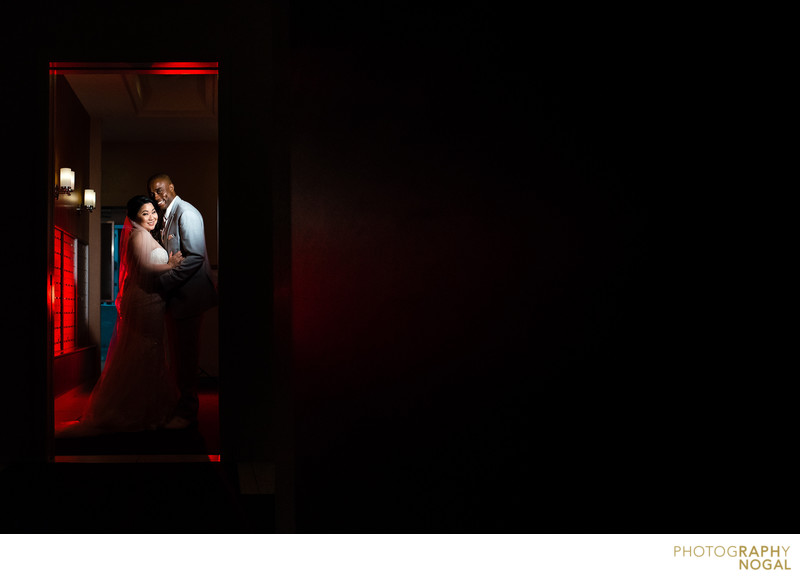 Seeing Opportunity
By using the light fixture inside the hotel lobby's alcove, I was able to create an artistic and fashion-inspired image that showed off the Bride's heals.
With almost no time left, as the bride was rushing off from Toronto's Novotel Hotel to the car, I saw a nook in the lobby. It had a beautiful light fixture I thought would complement the bride's look and give us a chance to show off those gorgeous heels.
With seconds to spare, I gave the bride some direction and we created something special. Your trust in my ability and creative vision is how we make these extraordinary images happen.
BEFORE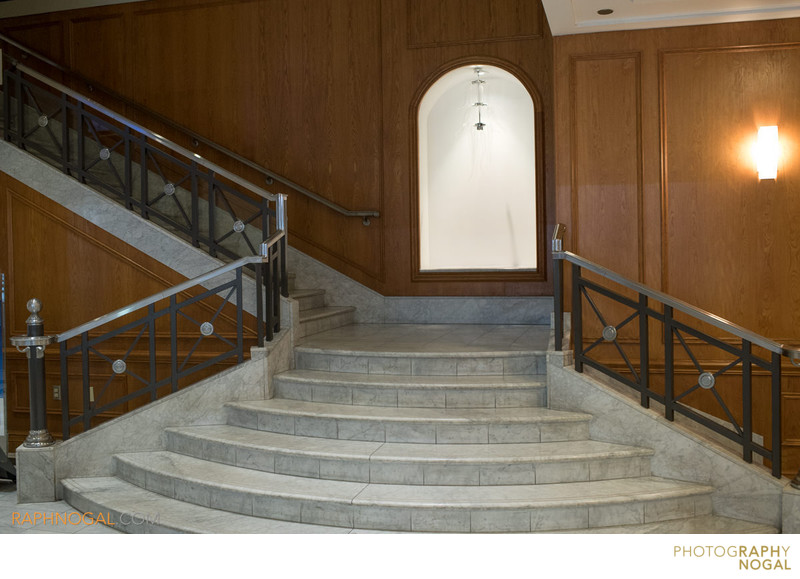 AFTER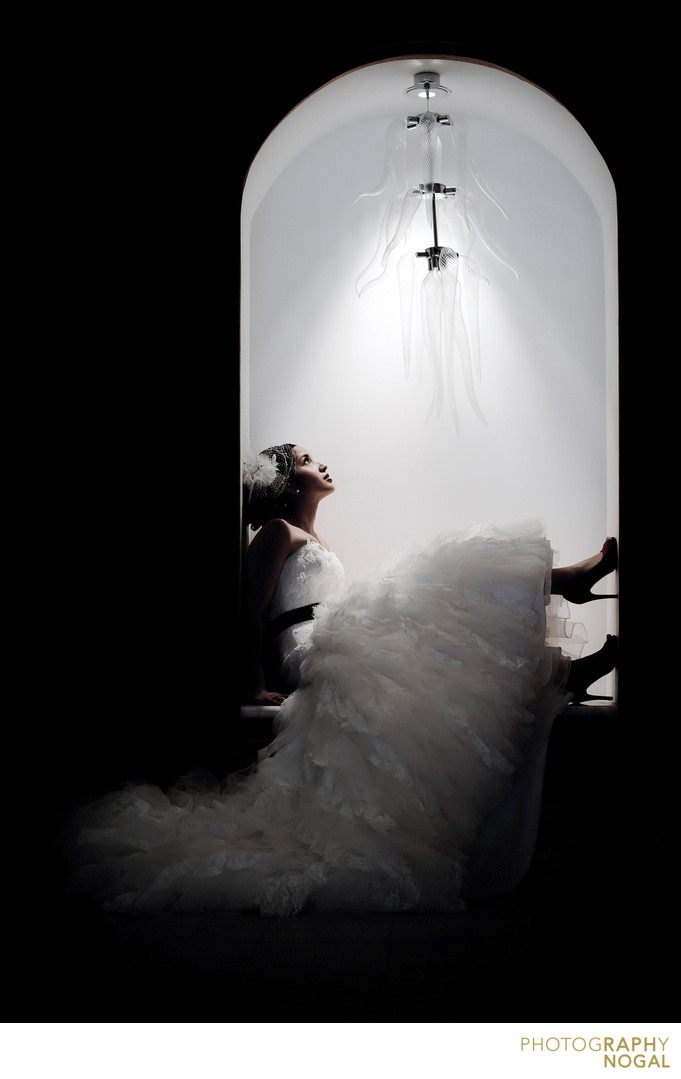 I Don't Hide From The Sun
Summertime at noon, most photographers will move to the shade; I see a chance to try something different. My assistant/associate, Oliver, and I have an incredible flow and working relationship. In a moment's notice, we can light a gorgeous photo and add that beautiful moving element to a photograph, such as a veil or a train.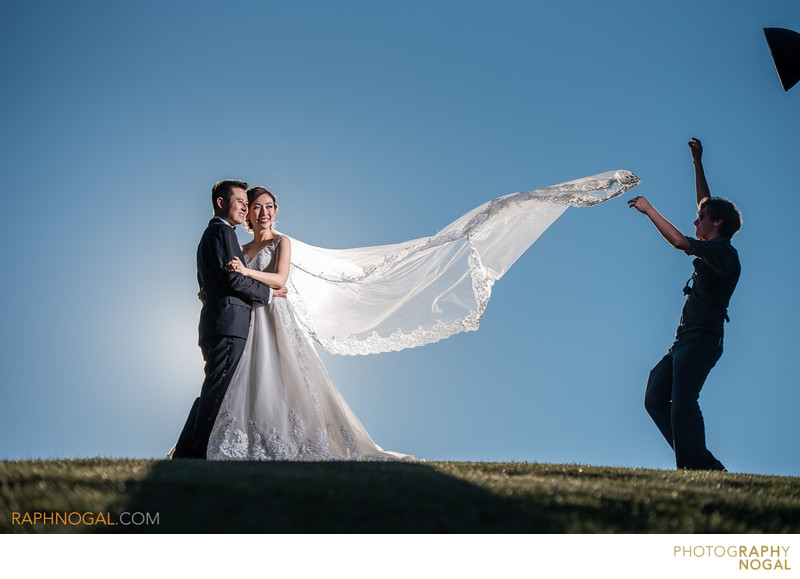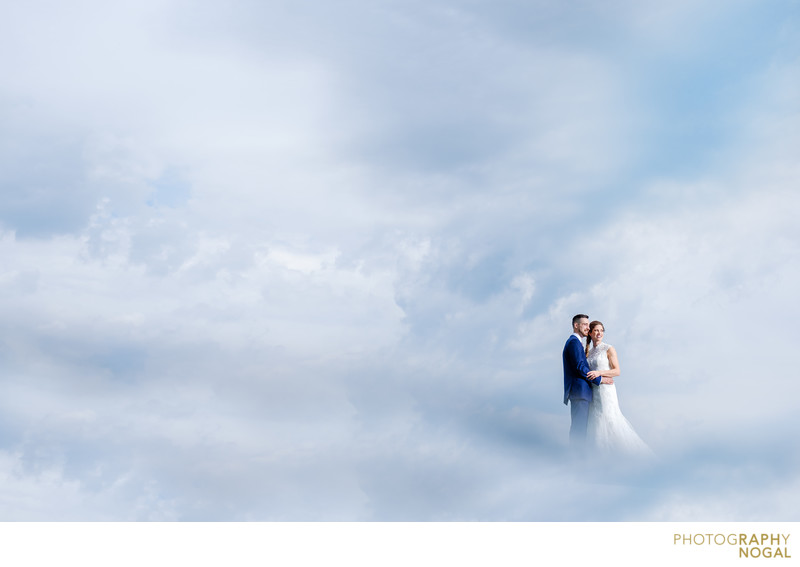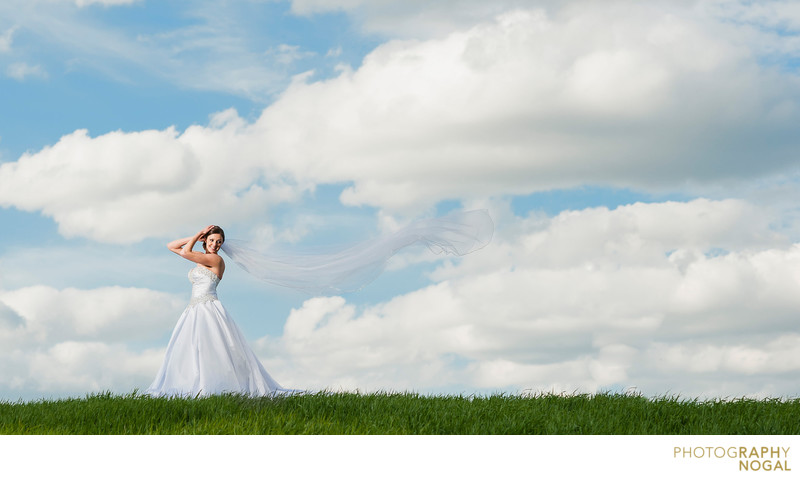 Seeing the difference is important. Most professionals do good work, but the ability to produce extraordinary results in sub-par conditions is what separates Raph Nogal Photography from the rest.
You can check out a video below where I was featured in a series called "How I Shot It" from MagMod to see this example and others about how I create compelling images for my clients is tricky situations.
Photography Style
My style is a combination of candid/photojournalistic wedding photography and art-focused / editorial photography. The fluid blend of all these "styles" describes me best and it incorporates a high-fashion flair, raw emotion, and results in creating something extraordinary sometimes out of nothing.
Candid / Photojournalistic Photos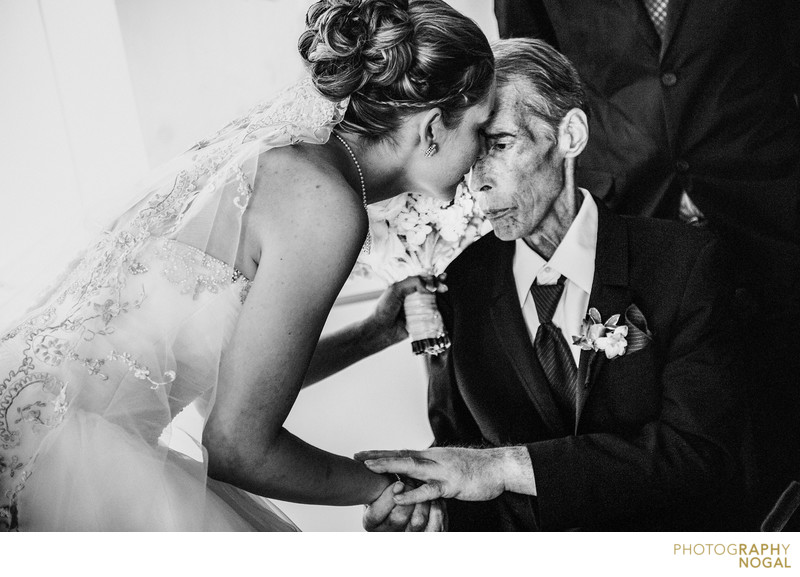 The big day lends to candid moments and capturing those naturally is important. Having a strong photojournalism mindset is essential to capturing real, unstaged emotion.
However, the combination of capturing the candid moments, while making my clients look their best, is my ultimate goal. I love dramatic lighting, vibrant colours, moody black and whites, negative space, and bringing out the best in people.
Editorial / Art-Focused Photos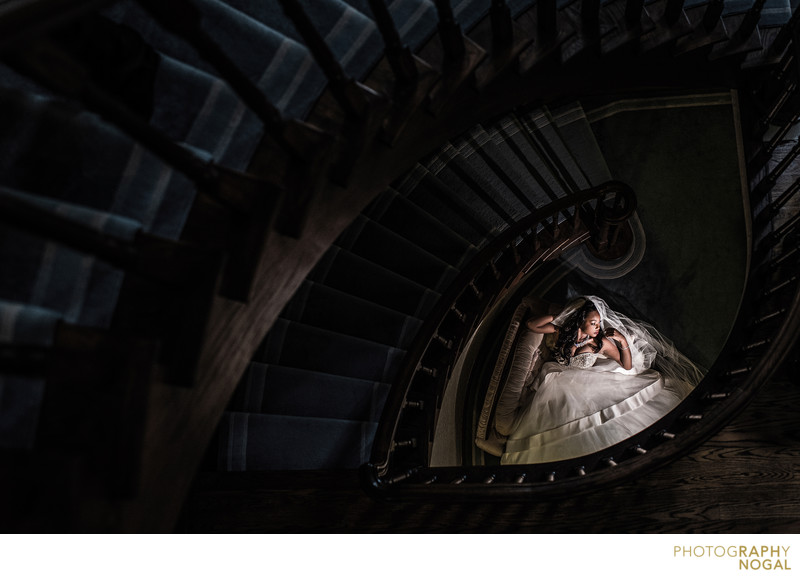 Trends come and go, and it's easy to apply a flavour-of-the-month filter. My goal is for your images to stand the test of time. By directing my clients with finesse, care, and expertise, I'm able to create a timeless look that is both classy and bold.
Expertise
With countless weddings and events in our portfolio, we have built a level of expertise that is unmatched in Toronto wedding photography.
We are not a volume or multi-shooter studio. I, Raph Nogal, and my assistant/associate Oliver, personally photograph every single wedding and engagement session that is booked with Raph Nogal Photography.
With this hands-on experience, we can offer guidance on various aspects of the process and help you plan your dream wedding. Most of our clients haven't been married before, so they are unsure what to expect, what to do and how to do it. They are relying on the professionals they hire for guidance.
I often feel like we play the role of wedding planner at times. With our involvement, we can suggest ideal timeframes for things like getting ready, family photos, etc. I make sure to use our time efficiently, so that we never miss a memory.
We can suggest some of the best Toronto venues, as we have photographed in countless places. Depending on your style and expectations, I can provide input on venues that would be a great fi
Comfort and trust between client and photographer is crucial. If you are uncomfortable, shy, or afraid, you will never open up. If that door remains closed, there is no way we can photograph who you are – only what you look like.
Click here to see our helpful wedding photography guides.
We Are People Too
We know what its like, I (Raph) have been married for 10 years now and I remember my wedding day. I know the hype, excitement and even stress that goes into a wedding day. We want to make this day as easy for you as humanly possible. Don't worry, we won't take you through a marathon when it comes to your wedding. It's your wedding day first and foremost, and not a photoshoot that happens to be your wedding. If you're having a good time, then we will be able to create amazing photos that you will love and it will remind you of that spacial day.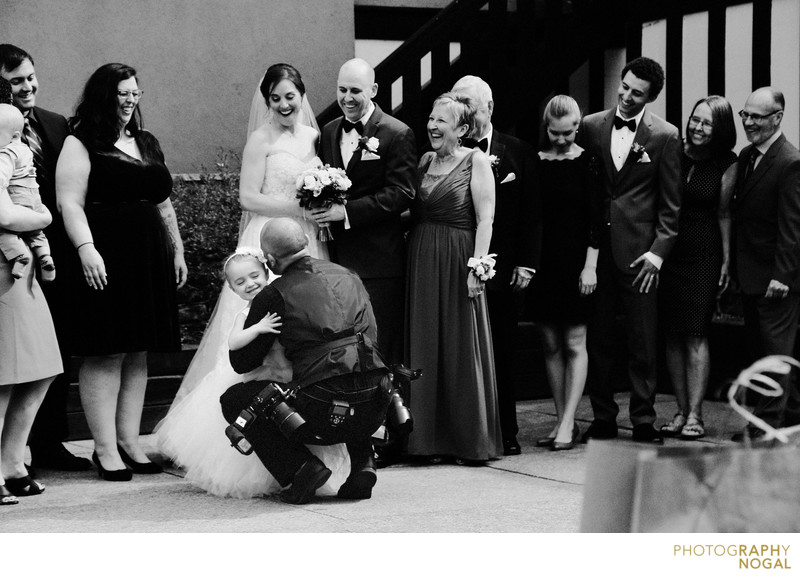 Value of Print
"A photograph is not finished until it's printed."
Australia's Print Master, Rocco Ancora, has said this many times and I couldn't agree more. In today's age of instant gratification, we get excited about Facebook posts and Instagram pictures. Don't get me wrong, I love them too, but the longevity of those photos is often overlooked.
To me, digital images are an afterthought. Of course, you will receive them after the day is done, but what I value most of all is the album and hard prints; things that you can touch and feel.
I have photographs from my grandparents' wedding in the 1950's. How amazing is that? How many people still know that tangible sentimentality? They have a certain feel and smell to them. They instantly bring back memories of my grandparents, even though I wasn't alive when they married.
How will those senses be activated with digital images? On an iPad? On a USB stick?
Delivering prints and albums to my clients is something I am passionate about. I want to carry on the tradition of sharing real, hardcopy prints. Better yet, I want to start that tradition with my couples, so that your grandkids can reminisce about you one day.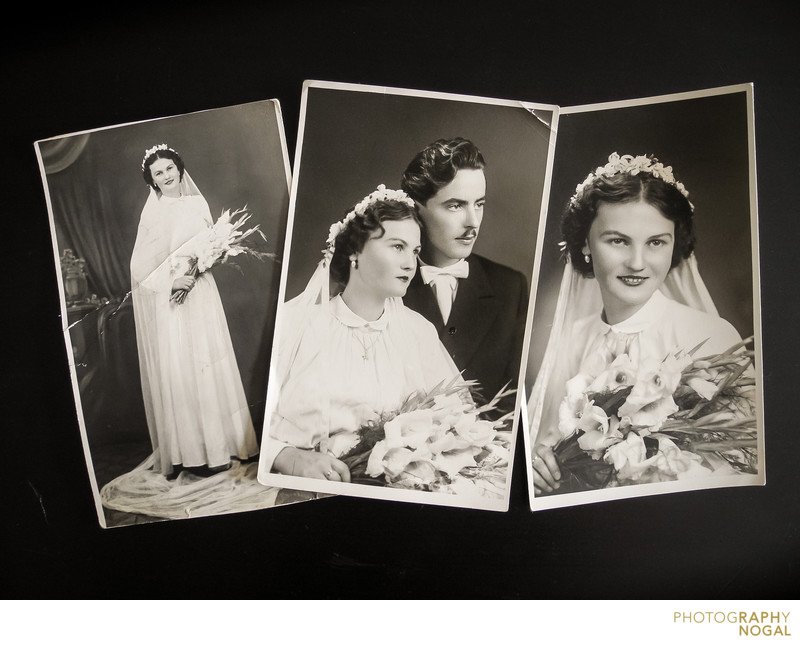 Testimonials
Our clients are amazing. They appreciate photography, they value the skill, and they can recognize it. They are in love with their wedding albums and they praise our hard work through the reviews they leave after their experience with us.
"Raph is so much more than a photographer, he's an artist. He doesn't just take photos, he creates these beautiful art pieces and stunning images" - Amy & Dee
You can see more reviews from our past clients on Canada's leading online wedding planning resource, WeddingWire Canada.
Awards & Recognition
Challenging myself and seeing where I stack up with my heroes, mentors, and colleagues is how I continually improve. I frequently enter credible image competitions to push myself to the next level.
Since 2013, we have earned over 25 international photography awards, including some of the following:
17 Wedding & Portrait Photographers International (WPPI) Awards
2 Fearless Awards from Fearless Photographers
Named one of the Top Wedding Photographer in 2016 by Fearless Photographers
Professional Photographers of Canada (PPOC) Regional & National Best In Class Awards
PPOC Accreditation in "Wedding Environmental" Portraits
Click here for a complete list of our Awards and Accolades.
Additionally, I'm honoured to be an ambassador for several amazing photographic equipment companies. I'm one of only two Profoto Canada ambassadors, and the only one representing the wedding market. I'm also a Profoto PPC Trainer. Profoto is a world-recognized manufacturer of light shaping tools and strobes and used by some of the most amazing photographers in the world.
I'm also a MagMod ambassador. MagMod are a revolutionary company, designing the best speed light modifiers on the market. I'm also an ambassador for Spider Camera Holster - the only camera (non)strap I use that allows me to work freely without the restrictions of a traditional camera strap
My Mission
I want my wedding couples to have an incredible experience on their wedding day. I want them to enjoy their time with family and friends, immerse themselves in the emotion of the day and I want them to have an incredibly time - while simultaneously being photographed to preserve the memories to be shared for generations to come, while shining their brightest and looking their best...