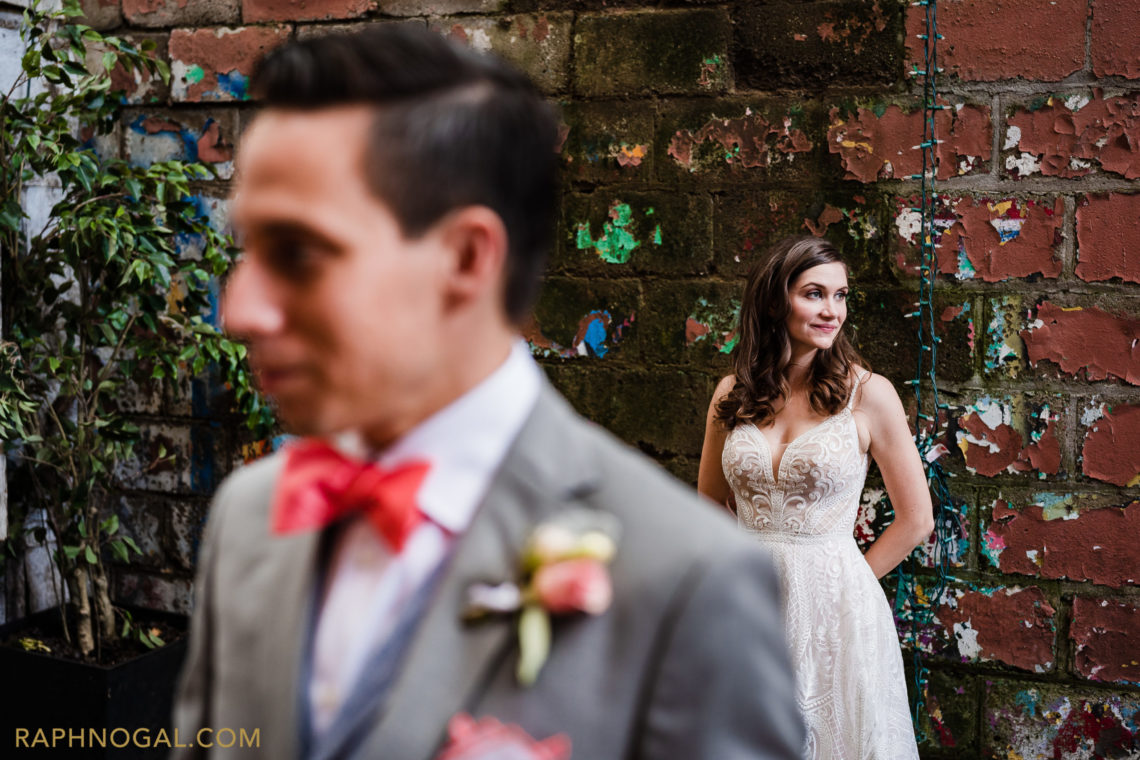 Berkeley Fieldhouse Wedding: Kaely and Davin
It was a beautiful day, despite the earlier forecast saying 80% chance of rain – we lucked out in terms of weather! We started the day with Davin and Kaely as they were getting ready and then captured their first look on the terrace.
The ceremony and celebrations took place at the beautiful Berkeley Fieldhouse downtown Toronto.
It was also great to work with Aly again from AlyandCo Events.
Their Story
Tell us how you first met. Where, When, How? Give us the juicy details.
We first met during a night out with mutual friends. We met up at a bar and shared a few drinks. We both noticed each other right away and the flirting commenced. We all stayed out till the bar closed but we weren't ready for the night to end. We both (along with Kaely's roommate – one of our mutual friends) headed back to Kaely's place. Like a true inebriated Canadian, Kaely wanted poutine. Davin asked her if he could help himself to her kitchen. 45 minutes later there were delicious potatoes with cheese (that Davin couldn't even eat because he is lactose intolerant!) The night ended on a PG note. After that, we saw each other at parties a couple times a year and even went on a few dates at one time, but it wasn't until three years after that first meeting that we officially began dating and the rest is history.
When did you know he/she was the one? Was there something he/she did?
Kaely: I knew Davin was the one on our fourth date. It was the first time he cooked dinner for me (including chorizo-stuffed bacon wrapped dates!) and we connected on a deeper level as we got talking and shared more about ourselves.

Davin: It took me a bit longer before I knew it, though I think I felt it long before I knew it. It was 4 months into dating, we were on a 6-hour car ride back from Montreal and I realized how comfortable and safe and fun everything with Kaely was. I broke the "I love you" barrier that night.
Tell us about your proposal. (Did you see it coming? How long was it in the planning? How did you feel when it happened? (excited, nervous, etc.)
Davin is not much of a planner, Kaely is the planner. So the proposal was a daunting task for him. He not only planned a beautiful surprise proposal in their apartment but also planned a surprise engagement party with all their friends and family for the next night. We were both so excited and happy.
What is your favourite memory together aside from the proposal? Why?
We have so many! The one that is top of the list for both of us was camping in the White Desert in Egypt and waking up early to watch the sunrise. This is a favorite because it was so unique and beautiful and we loved being able to share that together.
Tell us the one thing you most love about each other
Kaely: I love Davin's good heart, his intelligence and his silliness.
Davin: Definitely how silly Kaely is, and her kindness.
What do you think is unique about you as a couple?
We are opposite in so many ways. The way we see the world, process information and make decisions is night and day and this definitely does cause us to butt heads sometimes but it doesn't change how much we love each other and in fact, also allows us to challenge each other and learn.
Besides being married, what's the one other thing you are looking forward to on your wedding day?
THE HORA!!!!
What is your favourite wedding trend right now?
Not sure we are cool enough to know what is trendy right now…
What inspired your decor theme?
Kaely showed Davin a bunch of pictures on pinterest of different colours of flowers and Davin said "that one!' and everything else grew from there. The venue provides a lot of the decor simply by being outside. It's a gorgeous space with all the trees and greenery.
What's one thing you wish you would have known earlier in regards to planning your wedding?
That there was going to be a pandemic!
Vendor List
Photography | Raph Nogal Photography
Wedding Coordinator / Planner | Aly & Co (Alyssa)
Ceremony Location | Berkeley Fieldhouse (Ange)
Reception Location | Berkeley Fieldhouse
Florist | Cool Green and Shady (Amber)
DJ / Band | DJ Rich Sweet
Dress Designer | Maggie Sottero
Dress Salon | Superior Bridal
Videographer   | Brian Wong
Hair dresser and MUA – Toronto Beauty Group (Jessica)