SPEAKING ENGAGEMENTS
---
** ANNOUNCEMENT COMING SOON - July 2017 **
Very excited to be part of this event and share some knowledge about off-camera flash. I will talk about fundamental concepts relating to off-camera flash (OCF), discuss light shaping tools & modifiers, provide practical examples of how I use OCF, and do a live demonstration to show the various looks and moods you can achieve with off-camera flash.
DETAILS COMING SOON


---
PAST EVENTS:
CCOPE: May 25-May28, 2017 (EVENT CANCELLED)
PROFOTO CANADA & MAGMOD present "The Potential of Off-Camera Flash" with Raph Nogal
I'm excited to be speaking at the Canadian Conference of Photo Educators in May 2017. I will share some of my techniques, discuss the benefits of using off-camera flash and demonstrate some key tools that make the process quick and easy. Following a live demo, participants will be able to get some hands-on time with equipment during an on-location shoot. For a full list of speakers, check out the CCOPE 2017 website.

---
GTA IMAGING WORKSHOP: May 17, 2016

Progression Fram Natural Light to Off-Camera Flash
If you're afraid of using flash, unsure about what's involved or simply want to see how I use off-camera flash, come check this out !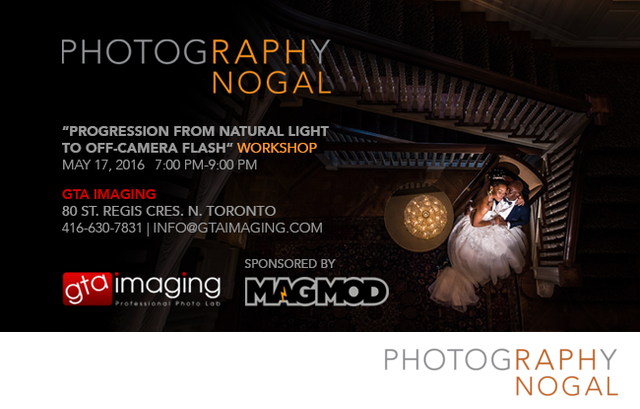 Photos below by Paul Koziorowski.